Temmet Aelloon



Race

Human

Titles

Relatives

Commander Aelloon Sr., father

Status

Deceased

First Appearance

Last Appearance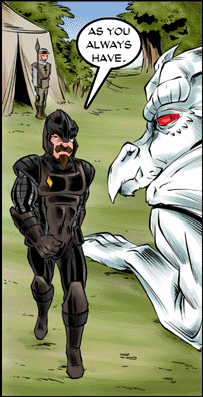 General Temmet Aelloon of the King's Legion was the first adversary the band of adventurers has had to face. He commonly wore a full suit of black iron plate armor, with a small golden badge on the right side of his chest. He desired the Sword of Truth as payment for a debt Benn'joon owed him, and hunted her relentlessly until she retrieved it for him. In his initial appearance, Commander Aelloon was only shown to directly command a few men; however, he was subsequently shown to have gained control of a significant number of ships, dragons, and soldiers. On that occasion he declares "I am Legara."[1] He later confirmed that he had been promoted.[2]
After claiming the Book of Innocence from Dnah, he brought it to the Ice Vaults of Fic to destroy it. However, he was convinced by Benny to negotiate a peace between Legara and Kethenecia, and they began talking. However, at that moment, Cale and Richard dropped in, disrupting the peace talks and reigniting the battle. He was then killed by Cale who, his hands frozen and numb, shot him with over twelve arrows at once.
Aelloon's declaration that he "is" Legara may be a reference to the phrase "L'État, c'est moi," which is attributed to Louis XIV of France.
References
Edit
ggg