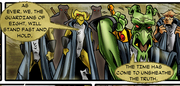 The Guardians of Eight are the guardians of the catacombs under the city of Kethenecia. Eight man-sized wingless dragon-like creatures, they resemble the dragons of old in Krunch's story, the ones who originally bred mankind from cavemen, and dreamed of flying. The guardians may be thousands of years old, as their leader says "For too long did we attempt to shape the land around us into a force of righteousness and purity. Kethenecia was to be a beacon of justice. Instead it is a farce." The Guardian leader, who carries the Sword of Truth, believes they have failed, and wants the experiment to end.
ggg
Ad blocker interference detected!
Wikia is a free-to-use site that makes money from advertising. We have a modified experience for viewers using ad blockers

Wikia is not accessible if you've made further modifications. Remove the custom ad blocker rule(s) and the page will load as expected.