This article is a stub. You can help Looking For Group Wiki by expanding it.
Shora was Cale'anon Vatay's elven wife during his time at the Beacon of Hope. She was eventually killed by Cale'anon's master, to prevent Cale'anon from returning.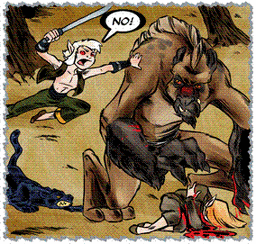 A young Shora and her panther cub, Sooba, witnessed when a group of bandits went on a rampage, killing Shora's entire family among many other innocent people. Cale'anon Vatay who was about the same age as Shora, arrived and tried to defeat the bandits and save Shora, but was overwhelmed. Fortunately, they were saved when one of the bandits, a mysterious man Shora referred to only as "the dark man", seemingly turned on the rest of the group.
Shora, Cale'anon and Sooba woke up together in the Beacon of Hope, being treated by Cale'anon's master. Shora stayed at the monastery, and Cale'anon showed her around, telling her that they trained to protect the weak. She questioned how they were helping when they stayed at the monastery, and Cale'anon was surprised to see things from this new perspective.
As the years went by, Shora grew very close with Cale'anon. At some point she began keeping the master company when Cale'anon trained against Notan, Clada and the others.
Though the monastery prohibited marriage, the two eventually married in secret, though Cale's master was aware of it. As she was one of Cale's few links at the monastery and he believed it was time he left, he arranged so that she would be caught kissing one of the other trainees, resulting in Cale leaving the monastery. She was murdered by the master shortly afterwards to ensure Cale'anon had nothing to go back to.
Her death was avenged, however, by the Master's other three apprentices, including Clada, Notan and the guy she had been kissing with. Those three then left to find Cale'anon and tell him the truth about Shora's death.
Ad blocker interference detected!
Wikia is a free-to-use site that makes money from advertising. We have a modified experience for viewers using ad blockers

Wikia is not accessible if you've made further modifications. Remove the custom ad blocker rule(s) and the page will load as expected.